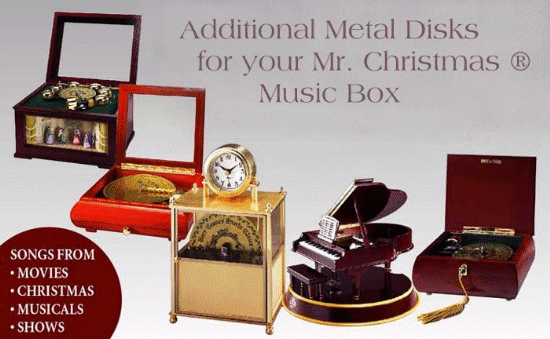 IMPORTANT:
There is more than one type of Mr. Christmas
Music Box. Some play 4.75" diameter metal discs,
others play 7" diameter plastic or paper discs.
Please make sure you are ordering the correct size disc.
Price: $17.60 per disc [ see list of discs below.]
Shipped USPS First Class
Inquire for insurance or international shipping.

These are NEW Discs made by HensTooth Discs.
Please refer to illustration below for appearance of our discs.
HensTooth Discs are guaranteed to play on your proper Mr.Christmas/Crosley/Thomas Pacconi
Disc Musical Box.

We offer a much wider selection of music than is available anywhere else, and take pride
in the quality of our musical arrangements.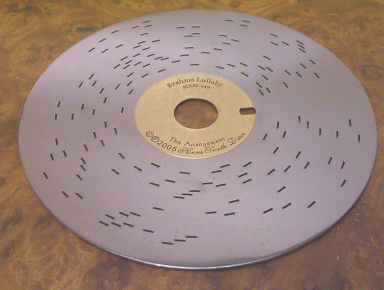 Additional Music, [ANYTHING!] , may be requested.
[as of September 30, 2016]


Click on Column header to sort list (Java required)
Mr. Christmas® is a registered trademark of Mr. Christmas, Inc.

HensTooth Discs not affiliated with Mr. Christmas, Inc.
IMPORTANT: Disks are made of metal on some Mr. Christmas/Crosley music boxes and plastic on others. They are not interchangeable so please make sure that you order the correct disk for your music box.
Quick Links
[Thorens/Reuge 4.5" Discs - Regina/Polyphon 15.5" Discs - Mr. Christmas Metal Discs ]
[Custom Discs - Specials - Chocolate Discs! ]