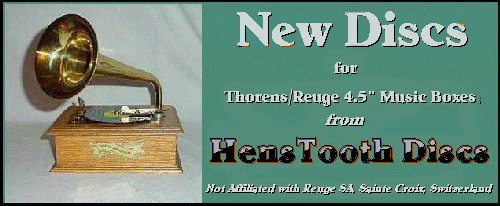 New 4.5" Discs for Thorens/Reuge Music Boxes from HensTooth Discs
Price: $17.60 per disc [ see list of discs below.]
Shipped USPS First Class
Inquire for insurance or international shipping.
IMPORTANT NOTE ABOUT DISCS FOR THORENS/REUGE PLAYERS
Due, in part, to slight design changes made to Thorens Music Boxes over the years, it is problematic to make discs which are likely to play correctly on all models. Owners have often reported that their music boxes will not play both the old Thorens discs and the new Reuge discs, and most dealers of old discs cannot tell you for sure that discs they sell you will play correctly on your particular music box. There could be many reasons why a particular disc will not play on your music box: In addition to design changes, even the slightest of wear or misalignment of the star-wheel mechanism can cause problems that show up when you play one disc, and not another. Even if you have purchased a music box that came with a number of old discs that play well, that does not mean that all old discs will play correctly for you: It is possible that only discs that played well were 'bundled' with your music box.
We test every one of our AD30 discs on several mechanisms before we ship them out. Nevertheless, you can rely on the advantage of buying from HensTooth Discs: Should any of our discs not play correctly for you, you can exchange them for ones that will, or receive a full refund less shipping.
Please visit www.ThorensAD30.com for detailed information, pictures and descriptions of various Thorens models.
Additional Music, [ANYTHING!] , may be requested.
More Thorens Discs ("Christmas Classics With A Twist Of Jazz") are listed HERE.
[as of September 28, 2016]

Click on Catalog # to hear a simulated sample,
Click on Column header to sort list (Java required)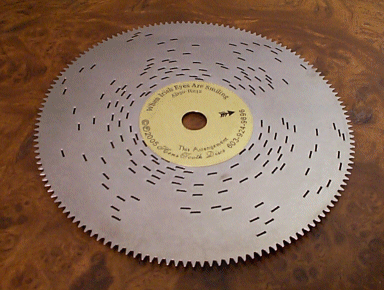 Quick Links
[Thorens/Reuge 4.5" Discs - Regina/Polyphon 15.5" Discs - Mr. Christmas Metal Discs ]
[Custom Discs - Specials - Chocolate Discs! ]